*
Meanwhile, a litigation wave has hit Norfolk Southern. The latest lawsuit alleges that efforts by the rail company and local and state authorities to burn off the dangerous chemicals made things worse and demanded punitive damages and medical monitoring.
"I'm not sure Norfolk Southern could have come up with a worse plan to address this disaster.

"Residents exposed to vinyl chloride may already be undergoing DNA mutations that could linger for years or even decades before manifesting as terrible and deadly cancers. The lawsuit alleges that Norfolk Southern made it worse by essentially blasting the town with chemicals as they focused on restoring train service and protecting their shareholders," attorney John Morgan said in a statement, who was cited by local media WFMJ.
"At least five class action negligence lawsuits have now been filed by residents and business owners who were impacted by the fiery chemical train derailment," The Independent said.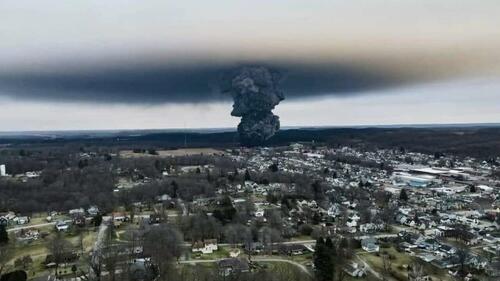 The photo above should've been on the front cover of every major newspaper nationwide -- but it wasn't. Wonder why?
QUESTIONS:
Where did the chemicals get made and where were they going?
What about the Amish community? Has anyone gone to see them?