SOLAR FLARE AND RADIO BLACKOUT (UPDATED): Sunspot AR3141 exploded on Nov. 7th (0011 UT), producing an impulsive M5-class solar flare. Radiation ionized the top of Earth's atmosphere and caused a shortwave radio blackout over the South Pacific, including part of Australia and all of New Zealand: map.
The explosion did not produce a CME; all of the debris fell back to the sun.
TOTAL ECLIPSE OF THE MOON TONIGHT: Earth's shadow is about to engulf the Moon. Tonight, there's going to be a total lunar eclipse visible across much of North America and the entire Pacific Ocean: visibility map. Maximum eclipse occurs at 2:59 am PST (10:59 UT) on Nov. 8th.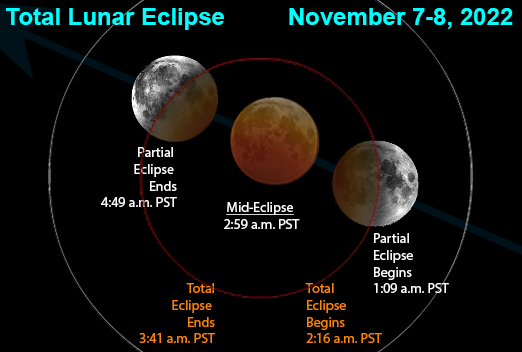 Additional time zones: EST, CST, MST, PST, HST. Image credit: Larry Koehn, Shadowandsubstance.com
The total phase of the eclipse, when the lunar disk is completely shadowed, lasts 1 hour and 25 minutes. During that time, amateur astronomers are encouraged to monitor the darkened lunar surface for flashes of light--the telltale sign of Taurid meteoroids hitting the Moon. The Taurid Swarm is in the area and it might make contact.
Above: An eclipse map from Larry Koehn of Shadowandsubstance.com