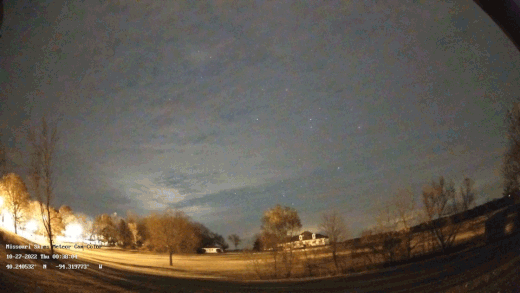 THE TAURID SWARM IS COMING:
A swarm of meteoroids is approaching Earth, and it could double the number of fireballs we usually see at this time of year. Researchers call it the "Taurid Swarm." It comes from the breakup of a giant comet 10 to 20 thousand years ago. Next week's lunar eclipse might be a good time to watch for these meteoroids hitting Earth and the Moon.
Full story @ Spaceweather.com

| | | |
| --- | --- | --- |
| Never miss another geomagnetic storm. Sign up for Space Weather Alerts and you'll receive a text message when magnetic storms erupt. Aurora tour guides and professional astronomers use this service. You can, too! | | |
ALL QUIET: There are four sunspots on the sun today. All four have stable magnetic fields unlikely to explode. NOAA forecasters say there is a 5% chance of M-class flares and no more than 1% chance of X-flares on Oct. 31st. Aurora alerts: SMS Text
THE 'TAURID SWARM' IS COMING: Have you ever heard of the "Halloween Fireballs?" Astronomers call them Taurid meteors. They appear every year from late October through early November when Earth passes through a stream of debris associated with Comet 2P/Encke. Dan Bush photographed this Taurid exploding over Albany, Missouri: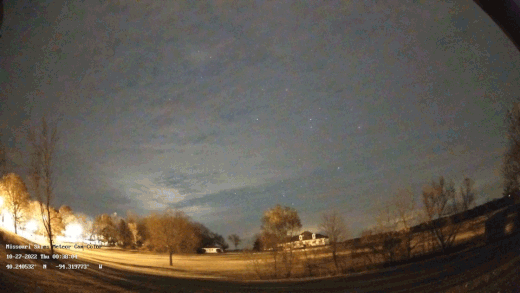 "Fireball season has arrived," says Bush. "I have caught many with my meteor camera system including this Taurid fireball above the clouds on Oct. 27th and another good one on Oct. 28th"
We're about to see a lot more of these. Forecasters believe that a swarm of Taurid meteoroids is approaching Earth, and it could double the usual rate of fireballs--not only on Halloween, but also through the early weeks of November.
Taurid meteors are thought to be debris from a giant comet that broke apart in the inner Solar System 10 to 20 thousand years ago. The breakup produced a mixture of dust and larger bodies that are still present today. Comet 2P/Encke itself may be just one of the fragments.
Over the years, Jupiter's gravity has shepherded some of these meteoroids into a well-defined cloud--the "Taurid Swarm." It visits Earth every 3 or 7 years. Previous encounters with the Swarm in 2005 and 2015 produced showers of fireballs observed around the world. The last outburst was 7 years ago, which means 2022 should be a Swarm year, too.
Above: A Taurid fireball exploding behind clouds over Albany, Missouri, on Oct. 27th. Credit: Dan Bush.