if you had not noticed, we play attention to the sky, sun and space weather:
THE IMPACTS HAVE BEGUN: A minor CME hit Earth's magnetic field on Aug. 17th (0303 UT). It could be the first of several grazing CME strikes in the days ahead. NOAA forecasters say their cumulative effect could cause strong G3-class geomagnetic storms, especially on Aug. 18-19. During such storms naked-eye auroras can descend into the USA as far south as Illinois and Oregon (geomagnetic latitude 50 degrees).
SUNSPOT AR3078 KEEPS EXPLODING: For the 3rd day in a row, active sunspot AR3078 is producing strong M-class solar flares. The latest, an M2-category explosion on Aug. 17th (1345 UT), hurled a plume of cool dark plasma into space: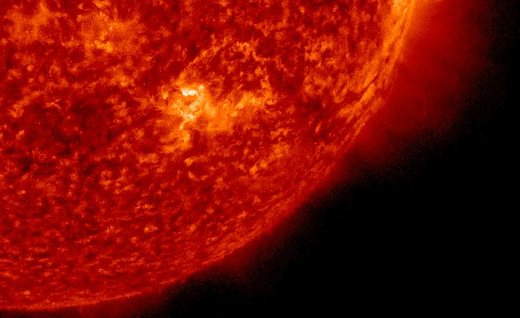 A CME will almost certainly emerge from the blast site (confirmation awaits fresh data from SOHO). But will it hit Earth? Like other CMEs AR3078 has produced this week, this one will skate the southern edge of the Earth strike zone. If it does hit us, the blow will be grazing, not full strength. However, even a grazing blow can cause a geomagnetic storm, especially in combination with other impacts, so stay tuned.