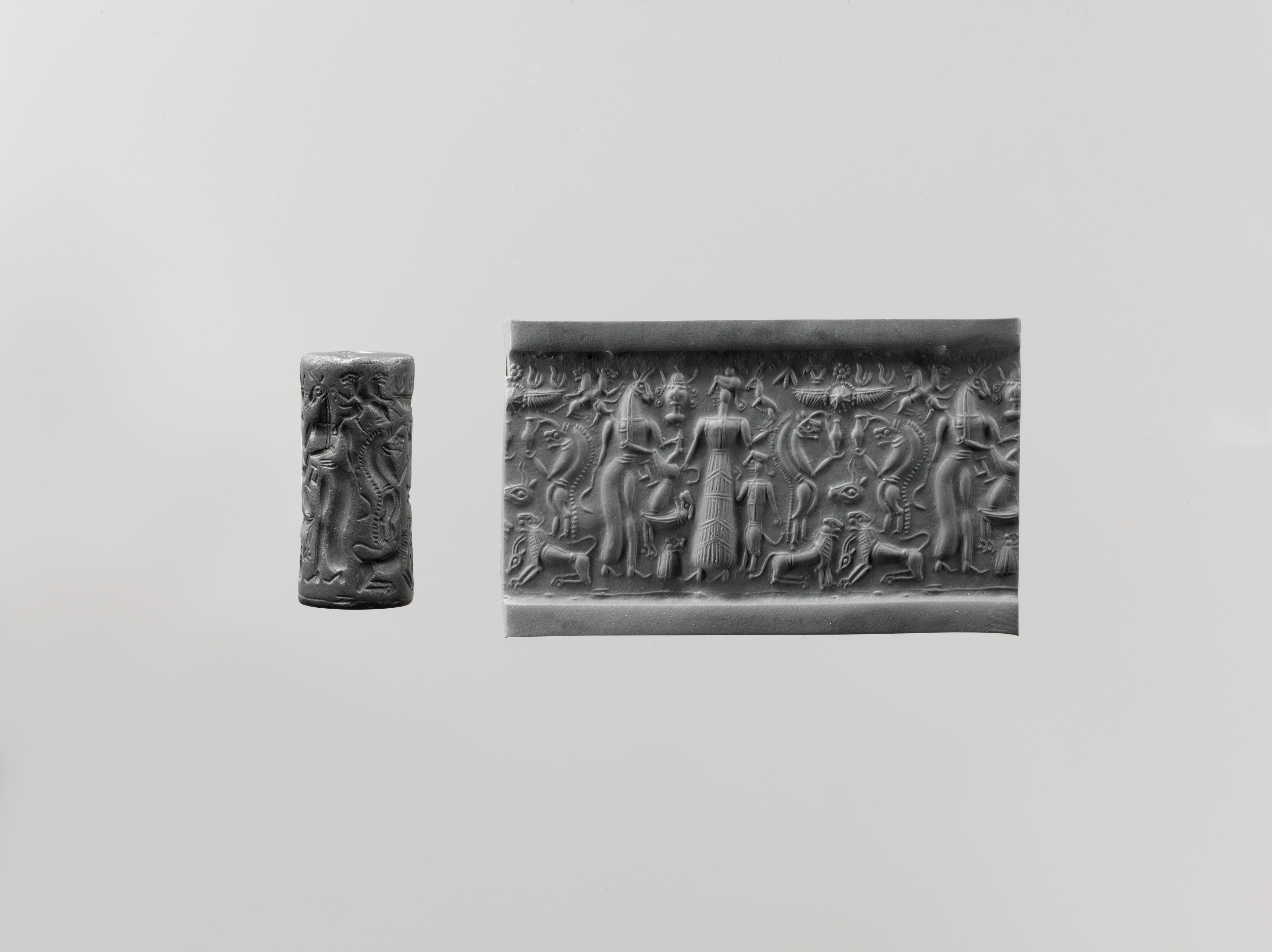 Cylinder seal and modern impression: demons and animals
Although engraved stones had been used as early as the seventh millennium B.C. to stamp impressions in clay, the invention in the fourth millennium B.C. of carved cylinders that could be rolled over clay allowed the development of more complex seal designs. These cylinder seals, first used in Mesopotamia, served as a mark of ownership or identification. Seals were either impressed on lumps of clay that were used to close jars, doors, and baskets, or they were rolled onto clay tablets that recorded information about commercial or legal transactions. The seals were often made of precious stones. Protective properties may have been ascribed to both the material itself and the carved designs. Seals are important to the study of ancient Near Eastern art because many examples survive from every period and can, therefore, help to define chronological phases. Often preserving imagery no longer extant in any other medium, they serve as a visual chronicle of style and iconography.

The modern impression of the seal is shown so that the entire design can be seen. This seal shows an elaborate multifigured design. Two demonic lion-headed creatures, known as Minoan Genii, face one another. Holding vessels by the handle, they appear to stand on the backs of confronted lions, with heads of horned animals in the field. Above them, between a small leaping ibex and crossed lions, signs of the Cypro-Minoan script flank a central rosette over a winged sun disc. A second group is composed of two figures grasping a lion suspended between them, one by the tail and the other by the hind leg. One figure wears a knobbed cap and a belted flounced garment, while the other is a bull-headed demon. Approaching the scene is an upright human-headed lion. A head of a human and of a lion also appear.
Artwork Details
Title: Cylinder seal and modern impression: demons and animals
Period: Late Cypriot II
Date: ca. 14th century BC
Geography: Cyprus
Medium: Hematite
Dimensions: 2.8 cm (1 1/8 in.)

Credit Line: Purchase, Friends of Inanna Gifts, 2008
Accession Number: 2008.27
By 1970, private collection (Boardman 1970, pl. 206); acquired by the Museum in 2008, purchased from Christie's, New York, on December 6, 2007, lot 392.
Boardman, John. 1970. Greek Gems and Finger Rings. London: Thames & Hudson, pl. 206.

Porada, Edith. 1973. "On the Complexity of Style and Iconography in Some Groups of Cylinder Seals from Cyprus." In Acts of the International Archaeological Symposium: The Mycenaeans in the Eastern Mediterranean. Nicosia, pp. 260-264, pl. XXXII, 1.

Annual Report of the Trustees of the Metropolitan Museum of Art 138 (July 1, 2007 - June 30, 2008), p. 9.

Aruz, Joan. 2008. "Cylinder Seal and Modern Impression: Demons and Animals." In Beyond Babylon: Art, Trade, and Diplomacy in the Second Millennium B.C., exh. cat. edited by Joan Aruz, Kim Benzel, and Jean M. Evans. New York: The Metropolitan Museum of Art, no. 252, pp. 397-398.

Aruz, Joan. 2010. "Intercultural Styles, Animal Combats, and the Art of Exchange." In Die Bedeutung der Minoischen und Mykenischen Glyptik. Corpus der Minoischen und Mykenischen Siegel 8. Mainz am Rhein: Philipp von Zabern, pp. 73-74, fig. 2.

Aruz, Joan. 2014. "Seals and Interconnections." In Edith Porada zum 100. Geburtstag. A Centenary Volume, edited by E. Bleibtreu and H.U. Steymans. Orbis Biblicus et Orientalis 268, p. 261, fig. 12.