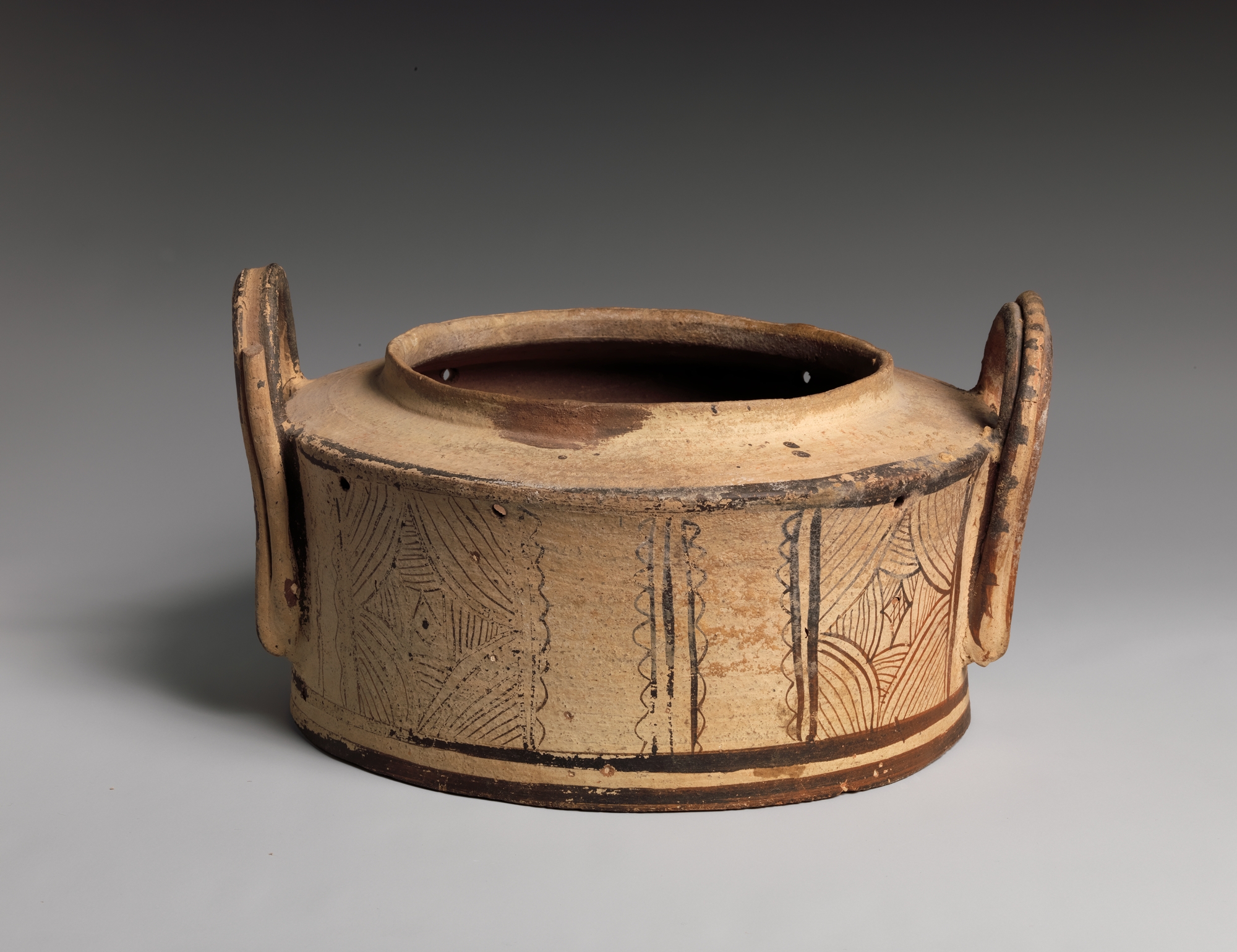 Terracotta pyxis (cylindrical box)
Minoan On view at The Met Fifth Avenue in Gallery 151
While the painted decoration on pottery of Postpalatial Crete is not as fine as the earlier works produced in the palace workshops, the quality of potting and the pyrotechnology reached a high point. This piece is a good example of the fine quality that was achieved by potters on Crete at the end of the Late Bronze Age. It is a less common variation pf the pyxis type, a characteristic Minoan shape, which usually has a taller cylindrical body.
Artwork Details
Title: Terracotta pyxis (cylindrical box)

Period: Late Minoan III

Date: ca. 1400–1100 B.C.

Culture: Minoan

Medium: Terracotta

Dimensions: diameter 10 1/4in. (26cm)

Classification: Vases

Credit Line: Gift of Alexander and Helene Abraham, in honor of Carlos A. Picón, 1999

Accession Number: 1999.423

Sotheby Parke Bernet. 1980. Important Eygptian, Classical, and Western Asiatic Antiquities. May 16, 1980. lot 163.

Picón, Carlos A., Joan R. Mertens, Elizabeth J. Milleker, Christopher S. Lightfoot, and Seán Hemingway. 2000. "Recent Acquisitions: A Selection 1999–2000." Bulletin of the Metropolitan Museum of Art, 58(2): p. 9.

Metropolitan Museum of Art. 2000. "One Hundred Thirtieth Annual Report of the Trustees for the Fiscal Year July 1, 1999 through June 30, 2000." Annual Report of the Trustees of the Metropolitan Museum of Art, 130: p. 17.
Double Ax Archaeological Museum in Herakleion.
Golden minoan labrys at Crete. Krete. Kriti in Ancient Greece