METEOR OUTBURST POSSIBLE NEXT WEEK: Debris from shattered Comet 73P/Schwassmann-Wachmann 3 is approaching Earth. ETA: May 31st.
Forecasters aren't certain, but there could be a meteor outburst when the material arrives. North Americans are favored to see the show if it actually happens. Estimates of visual meteor rates range from near zero to thousands per hour, highlighting the uncertainty of the forecast. [full story] [sky map]
A DEAD SUNSPOT EXPLODES (UPDATED): A magnetic filament snaking through the corpse of decayed sunspot AR3016 erupted on May 25th (1824 UT), producing a M1-class solar flare. NASA's Solar Dynamics Observatory recorded the blast: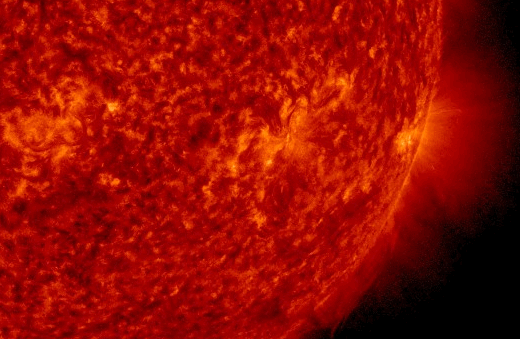 Coronagraph images from the Solar and Heliospheric Observatory (SOHO) confirm that the explosion hurled a CME into space:
movie
. The bulk of the CME will miss Earth, passing just ahead and south of our planet. However, a fraction of the cloud will hit. NOAA analysts expect a glancing blow to Earth's magnetosphere on
May 28th
with a chance of minor
G1-class
geomagnetic storms.