CME WIPES OUT COSMIC RAYS:
A CME that hit Earth's magnetic field on March 13th did more than spark bright auroras. It also wiped out a lot of cosmic rays. The storm cloud literally pushed space radiation away from our planet. The effect, called a "Forbush decrease," is still underway 4 days later.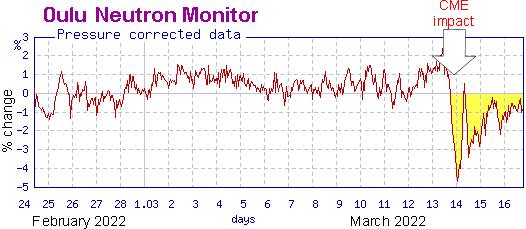 Above: A Forbush decrease detected by neutron monitors at the University of Oulu's Cosmic Ray Station in Finland.
This is called a "Forbush decrease," named after American physicist Scott Forbush who studied cosmic rays in the early 20th century. It happens when a coronal mass ejection (CME) sweeps past Earth and pushes galactic cosmic rays away from our planet. Radiation from deep space that would normally pepper Earth's upper atmosphere is briefly wiped out.
There's something odd about this Forbush decrease. It's a double dip decrease. Cosmic rays dropped precipitously on March 13th--then they surged midday on March 14th--then they dropped precipitously again. The up-and-down may be a sign of structure inside the CME.
BUT
GLANCING BLOW POSSIBLE TODAY:
Later today, March 17th, a CME will pass by Earth and might deliver a glancing blow to our planet's magnetic field. The weak impact will cause, at most, a minor
G1-class
geomagnetic storm. That might be enough to spark bright auroras around the Arctic Circle...