CO-ROTATING INTERACTION REGION SPARKS AURORAS: A co-rotating interaction region (CIR) hit Earth's magnetic field during the late hours of Nov. 15th: data. "Suddenly, the whole sky exploded with colorful auroras," reports Markus Varik from Tromsø, Norway: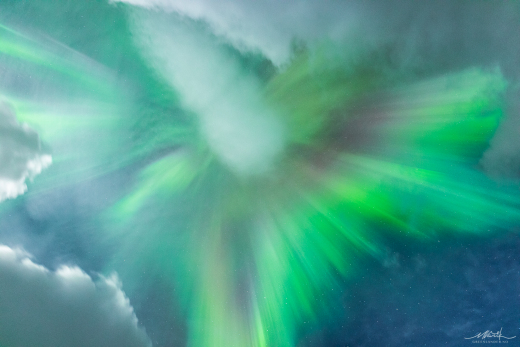 "We were surprised by this display because the forecast called for low geomagnetic activity," he says.
Indeed, forecasters were surprised. CIRs are notoriously hard to predict, and this one was not expected to arrive for another 24 hours--if it existed at all.
CIRs are transition zones between slow- and fast-moving streams of solar wind. Inside a CIR, solar wind plasma is compressed, sometimes even forming magnetized shock-like structures. They strike with the effect of a mini-CME.
Earth is now inside a fast-moving stream of solar wind following behind the CIR. With wind speeds topping 600 km/s, the Arctic aurora show could continue through Nov. 16th.