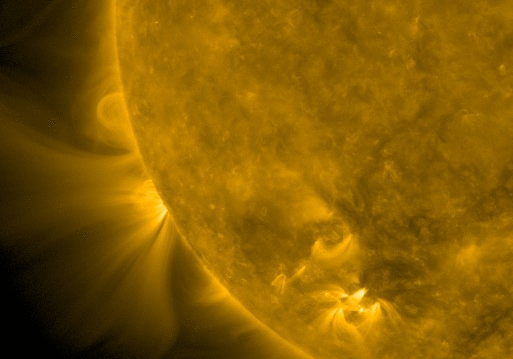 Had the two massive solar eruptions on the far side of the sun had been facing Earth this week our civilization would have been in deep trouble.
The massive CME, (coronal mass ejection, solar flare) called the Carrington Event, which happened back in 1859 was so strong it set fire to telegraph poles and buildings as well as giving telegraph operators electric shocks.
The problem for us in 2021 is we don't have the same strong and safe magnetic field protecting our planet as we did back in 1859. read this
*
Massive, Growing Weak Spot in Earth's Magnetic Field About to Split in Two, NASA Says

NASA says the weakening of the magnetic field in this area threatens to allow more solar radiation to get closer to the surface of Earth, disabling electronics or scrambling or temporarily disabling satellites and other space-based man-made objects that pass through it.
Geologists began expressing concerns about the magnetic field that shields Earth from deadly solar radiation in 2019, when the US National Oceanic and Atmospheric Administration was forced to update its World Magnetic Model a year early after finding that the magnetic north pole was rapidly moving out of the Canadian Arctic and toward Siberia.
The US National Aeronautics and Space Administration is tracking an immense, growing, and slowly splitting "dent" in the Earth's Magnetic field.
The area, known as the South Atlantic Anomaly, is situated in the southern hemisphere between South America and the southern Atlantic Ocean off the coast of southwestern Africa. According to recent NASA monitoring and modeling, the area is expanding westward and becoming weaker, and expected to completely split into two separate cells, each spanning thousands of kilometres across, soon. VIA