Major magnitude 8.2 earthquake - 104 Km SE of Perryville, Alaska, on Thursday, 29 July 2021 at 06:15 (GMT) - information - 12 hours ago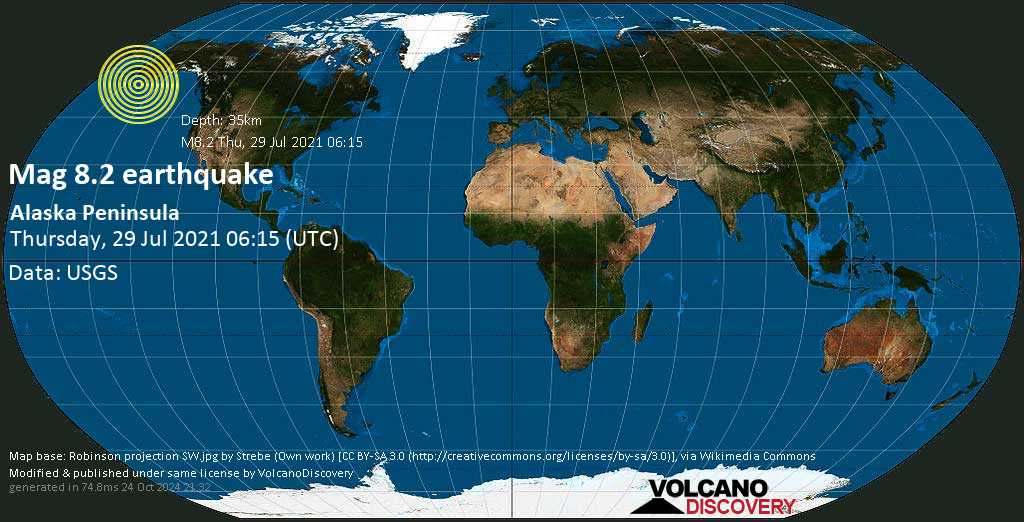 Major magnitude 8.2 earthquake at 32 km depth
29 Jul 06:20 UTC: First to report: USGS after 5 minutes.
29 Jul 06:22: Magnitude recalculated from 7.2 to 7.3. Hypocenter depth recalculated from 35.0 to 3.4 km (from 22 to 2.1 mi). Epicenter location corrected by 0.9 km (0.6 mi) towards S.

29 Jul 07:40: Hypocenter depth recalculated from 46.7 to 32.2 km (from 29 to 20 mi). Epicenter location corrected by 17 km (10.7 mi) towards SSE.
Update Thu, 29 Jul 2021, 17:31
Largest quake in the U.S. in 50 years sends seismic waves across the globe
Seismic waves of the Alaska earthquake earlier today recorded on Etna's ESVO seismic station in more than 9000 km distance (image: INGV Catania)
Map of the location the M8.2 Chignik Earthquake in relation to the 2020 M7.8 Simeonof Earthquake-aftershock sequence and rupture patches for other historic earthquakes (image: Alaska Earthquake Center)
The earthquake's powerful seismic waves traveled the globe and were recorded by seismic stations access.
Attached is an example how the quake showed up on a seismogram from a monitoring station at Mt. Etna volcano in Sicily, more than 9000 km (5600 mi) away.