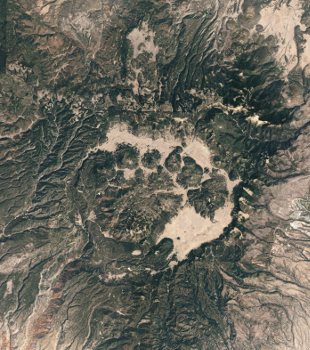 Valles caldera

is located in north-central New Mexico in the central Jemez Mountains west of Santa Fe. It is the oldest of three young caldera-type volcanoes in the United States; the other two are

Yellowstone

in Wyoming and

Long Valley

in California.

The Valles caldera-forming eruption occurred approximately 1.25 million years ago when huge volumes of Bandelier

tuff

were

explosively

evacuated from a underground

magma

storage region. As a result of the "supereruption," the ground subsided along a network of nearly circular faults, called a

ring fracture

, leaving the caldera, a 20 x 23 km (12 x 14 mi) depression. Resurgent

doming

of the central caldera floor occurred between 1.25 and 1.22 million years ago, which was immediately followed by additional dome eruptions around the caldera margins up until about 40,000 years ago.

***

Here is the opinion:

An excerpt:
THIS MATTER comes before the

Court

on the bench trial held on October 29-November 20, 2018; November 29-November 30, 2018; December 3, 2018; December 5, 2018; and December 13, 2018. The primary issue is whether Plaintiff Pueblo of Jemez has the exclusive right to use, occupy, and possess the lands of the Valles Caldera

National

Preserve ("Valles Caldera") pursuant to its allegedly unextinguished and continuing aboriginal title to those lands. The

Court

concludes that Jemez Pueblo has not established aboriginal title to the Valles Caldera. Although the evidence proves that Jemez Pueblo has actually and continuously used and occupied the Valles Caldera for a long time, the evidence also shows that many Pueblos and

Tribes

also used the Valles Caldera in ways that defeat Jemez Pueblo's aboriginal title claim.
Valles Caldera (or Jemez Caldera), is a 12-mile-wide collapsed volcanic caldera in the Jemez Mountains of northern New Mexico. Within its caldera, Valle Grande is the largest valle (grass valley) and the only one with a paved road.
Valles Caldera is one of the smaller volcanoes in the supervolcano class.
The circular topographic rim of the caldera measures 19 kilometers (12 miles) in diameter. The caldera and surrounding volcanic structures are the most thoroughly studied caldera complex in the United States.
Research studies have concerned the fundamental processes of magmatism, hydrothermal systems, and ore deposition.
Nearly 40 deep cores have been examined, resulting in extensive subsurface data. The Valles Caldera is the younger of two calderas known at this location, having collapsed over and buried the Toledo Caldera, which in turn may have collapsed over yet older calderas. The associated Cerros del Rio volcanic field, which forms the eastern Pajarito Plateau and the Caja del Rio, is older than the Toledo Caldera. These two large calderas formed during eruptions 1.47 million and 1.15 million years ago.[6]
The Caldera and surrounding area continue to be shaped by ongoing volcanic activity.
more