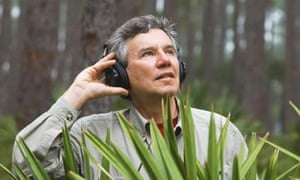 But such is the rate of species extinction and the deterioration of pristine habitat that he estimates half these recordings are now archives, impossible to repeat because the habitats no longer exist or because they have been so compromised by human noise. His tapes are possibly the only record of the original diversity of life in these places.
"A great silence is spreading over the natural world even as the sound of man is becoming deafening," he writes in a new book, The Great Animal Orchestra. "Little by little the vast orchestra of life, the chorus of the natural world, is in the process of being quietened. There has been a massive decrease in the density and diversity of key vocal creatures, both large and small. The sense of desolation extends beyond mere silence.
Hawaii, he says, is the extinction capital of the world. "In a couple of centuries since the islands were populated by Europeans, half the 140 bird species have disappeared. In Madagascar, 15 species of lemur, an elephant bird, a pygmy hippo and an estimated half of all the animals have gone extinct."
Source:
'A great silence is spreading over the natural world' | Environment | The Guardian