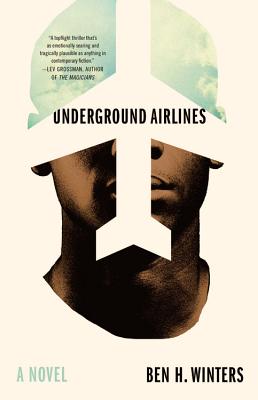 View this month's complete Indie Next List.
View from a bookseller
"Winters has managed to aim a giant magnifying glass at the problem of institutionalized racism in America in a way that has never been done before. This Orwellian allegory takes place in the present day but in a United States where Lincoln was assassinated before he ever became president, the Civil War never took place, and slavery still exists in four states, known as the Hard Four. In agile prose that manages to convey the darkest of humors, Winters tackles the most sensitive of issues such as the motivations of misguided white liberals involved in racial politics, the use of racial profiling, and the influence of racism on the very young. Underground Airlines is the most important book of the summer. Read it."

—Kelly Justice, The Fountain Bookstore, Richmond, VA
---
Indie Next around the web. . .
"This multigenerational saga follows the fortunes of the Sel and Duke families from early Colonial days to the present, spanning centuries and continents as they make their living not only from the bounty of the land but also from the ravaging and destruction of it. As always, Proulx is brilliant at creating a story that flows impeccably, and her nature writing is some of the most beautiful and evocative to be found in modern literature. This novel is an epic work, a fictional Silent Spring that will linger with readers long after completion."



—Bill Cusumano, Square Books, Oxford, MS



Annie Proulx's Bloody New Novel 'Barkskins' Is About More Than Deforestation
---
---
Why shop local and indie?
When you shop at a locally owned independent business, your entire community benefits:
The Economy
Spend $100 at a local and $52 of that stays in your community. Spend the same $100 at a national chain, and your community only sees $43.
Local businesses create higher-paying jobs for our neighbors.
More of your taxes are reinvested in your community--where they belong.
The Environment
Buying local means less packaging, less transportation, and a smaller carbon footprint.
Shopping in a local business district means less infrastructure, less maintenance, and more money to beautify your community.
The Community
Local retailers are your friends and neighbors—support them and they'll support you.
Local businesses donate to charities at more than twice the rate of national chains.
More independents means more choice, more diversity, and a truly unique community.
Now is the time to stand up and join your fellow individuals in the IndieBound mission supporting local businesses and celebrating independents.
Learn more at IndieBound.org/spotlightamazon.